24th Week of School
Principals Corner for 24th Week of School
Weekly happenings for the week of 2-20—2-24
National FFA Week
Monday 2-20-17
Junior High Benchmarks
February 20 – 7th Writing 8th Math
Parent meeting in the school cafeteria for those that might be interested in volleyball from 4th-7th grade. The meeting begins at 7:00pm in the school cafeteria
Tuesday 2-21-17
Boys Pep Rally during Rebel Time
Varsity Softball at Bland at 4:00
Fan bus to ballgame the cost is $5.00
The playoff game will be at Denton Ryan at 6:00pm.
Wednesday 2-22-17
2nd day of benchmarking for junior high 8th grade reading
High School Awards Assembly in gym during Rebel Time
Thursday 2-23-17
Sam Rayburn wood bat tournament begins today. Coach Mauppin will be sending details.
Elementary Awards Assembly
Kara Mathis will be at a Tennis Tournament for the boys tennis tournament.
9th period we will have a junior high awards assembly in the cafeteria
Friday 2-23-17
Wood bat tournament still going on
High School Beta will be leaving at 8:30.
Lunch Menu for the Week

Breakfast Menu for the week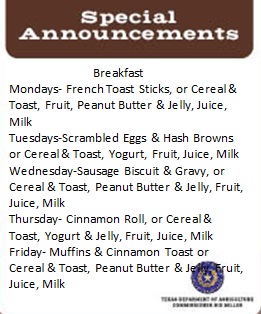 Parents please make sure you can login to Parent Portal to view your child's grades and attendance. Please continue to check our teacher's websites and parent portals so there will be no surprises. They are in high school/junior high. Failing grades have other consequences besides just failures. If you fail at the six week period, your child is not eligible to participate in extracurricular activities, such as athletics, FFA, etc. To overcome that battle with your child please make sure you are looking at the website for Principal's Corner, logging into Parent Portal, checking your child's teachers website that lets you know what they are doing in class that week, and bringing up the calendar weekly to see what is happening in their school. I am also sending out what is typed here in Principal's Corner as a newsletter to all parents that put their email down on their registration form. You will receive a newsletter weekly. Please also check our Facebook page for information. I am open for any other suggestions to keep you aware of what is happening at Sam Rayburn High School. If you would like to set up a meeting with a teacher please contact us with any and all concerns. If your child is struggling, be sure you have communicated with their teacher.
If you need information about Parent Portal of School Messenger, please call Misty Stewart and she can print out another letter if you need one. To help keep up with what is going on in your child's classes be sure and login to the website. You can go to the district site www.srisd.org. Click on schools and pick Sam Rayburn High School. On the left hand side you will see Classroom Assignments. After you click that you will see a drop down menu with the teacher's names. Each Monday you can look to see what is going on in their class and ask your child or remind them of tests and assignments that might be due.
I hope you enjoy the principal's corner each week. I will try to keep you abreast of what is going on at the school. I appreciate you entrusting us to take care of your child daily. Please know that if something concerns you that I want to hear about it. My email is wendy.keeton@srisd.org or you may call me at 903.664.2165 x 217. I am looking forward to a great year with the students.